Experience bass fishing on a whole new level.
"
Love the variety of lakes and the fact that you can book the entire property. A great escape offering wilderness like solitude. The ability to fish at your own pace. No fighting over spots. My wife, family, friends and nephew all love the experience. Many locations have lodging and/or camping. Overall, the fishing is far superior to public lakes with guides....and for less money.
"
- Mike
CATCH MORE FISH - 5X THE CATCH RATES ON PUBLIC LAKES

CHOOSE FROM OVER 100 LAKES IN TEXAS & OKLAHOMA

HAVE THE ENTIRE LAKE TO YOURSELF
We have some of the finest private fishing lakes in the country, providing opportunities for life long fishing memories. Our lakes are managed and stocked, ensuring the quality of fishing is of the highest level.
Let's face it, you have options on where you can fish and how you want to spend your time and money fishing. There are lots of public lakes, but your chances of catching a lot of fish are slim unless you hire a guide. The average cost of a fishing guide has risen to over $550 a day.
PRIVATE WATER FISHING
PUBLIC LAKE
Inexpensive - No boat or guide needed
Expensive - Boat and/or guide needed
You have the lake to yourself
Crowds, personal watercraft, bass boats, wake surf boats - fast population growth will make this worse
Lakes managed for optimum number and size of bass
Lakes managed for drinking water and irrigation for residential and commercial suburban living
Catch rates per hour = 3.4 bass
Catch rates per hour with guide = .7 bass
QUIET - Only noise is mother nature
LOUD - Boat noise, personal watercraft noise, lake lot owners, boat ramp arguments
Boats provided
Boat payments, boat maintenance, boat storage, boat depreciation.
Less fishing pressure = More fish
More fishing pressure = Less fish
96% of TX and OK land is private
Only one new public lake in TX last 30 yrs
Do you want to know what the Private Water Fishing experience is like?
Check out this video or go to our YOUTUBE channel and check out more videos!
"
PWF is the coolest thing I have ever done for myself. Can't really express how much I enjoy gettingto fish all these beautiful places.
"
- Kevin
---
"
Wish I would have found PWF 2 years ago. Do yourself a favor and join today.
"
- Christopher

CHOOSE YOUR MEMBERSHIP
Select your annual membership from one of four options
Our Members pay an annual membership fee, a one-time initiation fee, and daily rate (average is $100 per fishing adult) to fish our properties. The daily rate of each lake is determined by the location of the site, its facilities, and the quality of fishing.

CHOOSE YOUR LAKE
Reserve your choice of lakes, on line by choosing any of the more than 100 private lakes.


ENJOY YOUR DAY AT THE LAKE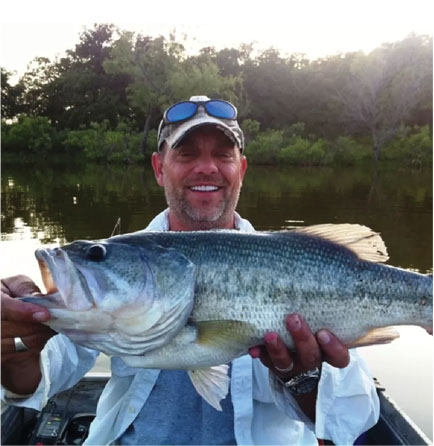 "It doesn't get any better than this. PWF has great owners & managers, the properties are terrific, new properties are always being added and you get the lake to yourself for the day. Always good numbers plus big size often. Plus traveling around on the back roads of north Texas and Oklahoma is a lot of fun. This is also something I do with my son on a regular basis who is also a member."- Rick
"As a 10yr club member, I appreciate the opportunity to fish on private, well-managed lakes, enjoy meeting other members, and putting together group trips to one of the Oklahoma properties. You will not have a better fishing experience than you will with PWF. Not for numbers, and not for quality!"- Zack
"Private Water Fishing gives you access to the best private lakes in Texas, period. I've been a fisherman since I was a kid, but I found a new passion for bass fishing upon joining PWF. The amount of care that goes into managing the fisheries, and in turn, the quality of the bass, are unparalleled. In the two years I've been a member, I've caught dozens of bass over 5 pounds, several bass over 7 pounds, and the 9.66 pounder attached to this review. Whether you want to catch a ton of fish with your kids, or treat a client or a friend to catching their new personal best, this is the place to do it"Harrison
"My husband, daughter and myself love Private Water Fishing! Since we joined a few years ago we have enjoyed ourselves exploring the many different properties they have to offer; everything from high game fence ranches to small family owned farms, I think they have around 60 properties! We usually fish about 5 - 10 times a year and it is so great being able to almost "guarantee" a great day of fishing!"- Cindy
"If y'all want to enjoy the best fishing adventures you ever had, call Private Water Fishing. Best thing since sliced bread! You have the ranch to yourself, most locations have a boat to use. Y'all will catch fish.just let the staff at Private Water Fishing know if you want a shot at a trophy or just spend the day catching fish. Great family activity, wonderful settings, safe environment and a ton of great memories."- Bob
"I'm a person that loves to fish and teach new anglers how to fish. I highly recommend PWF. I've taken my 84 year old grandmother and plenty more family and friends fishing at PWF lakes and they all had a blast. I've never taken anyone fishing at PWF lakes that didn't leave with a life long experience that they will continue to talk about for years.
I enjoy the peace and quite and only sharing the lake with the guest I bring with me. If you love fishing, love the peace and quite with family and friends you should give PWF a try. The fish are not going to just jump in the boat however you will have a better opportunity of landing quality fish than on a public lake.
The lakes side cabins are also awesome for a great family getaway. PWF staff are 2nd to none when it comes to customer service. PWF staff has always been available for me, even when my truck was stuck in the mud at one of PWF properties, to answering questions about new lakes I've never fished before. PWF has been great for me since 2007 when I joined"- Rodrick
"We've been members of Private Water Fishing (PWF) for 7 years and have not regretted one minute of it. Back when my son was in high school, close to moving off to college, I really wanted to find something that we could dive in to together and spend some quality (and quantity – that's what matters) time together on. I had my eye on PWF for quite some time and decided to pull the trigger. Let me tell you – don't wait – do it for yourself, do it for your family. Without the major investment of a bass boat and tow vehicle, and without having to fight any weekend crowds, we were able to jump in and start finding quality bass waters right away. Fast forward – my son is already out of college and on his way to other things – I am so grateful for the time that we shared on PWF waters. And the kicker, and an even bigger blessing, is that my wife jumped right in after my son moved out and has more than thoroughly enjoyed joining me on many, many PWF outings each year. In fact, she is the real fisherman – she bags a bigger bass than I do on almost every outing. If you are on the fence about it, don't hesitate. The ownership/management always handle everything with care and professionalism. The pricing is fair – this is not solely a rich man's game, nor is it a giveaway (it wouldn't work that way). The ranches and lakes are private, peaceful, and promise a good outing, whether you load the boat with a big catch or not. In fact, that is a huge part of the fun – it is still fishing – it is still a challenge! You've got to observe and adapt with each trip. I can't wait to book another outing!"- PJ
Join Private Water Fishing
Find your perfect plan here.
We believe that we have some of the finest private fishing lakes in the country and think you will enjoy the Reel Solitude of Private Water Fishing. We feel it is a privilege to fish on private property and want you to understand the expectations we have for you as a member. We take our relationship with our landowners very seriously and will require you to follow the club rules of conduct.
Our members pay an annual membership fee; this allows them access to reserve any of the lakes in our club. Once you book a lake there is a separate per person day rate, this is how the landowners are compensated.
FISHING
Gold-Family
$
550
/ yr.


Taxes & Fees Included
(Includes spouse and all dependent children 21 & under)
APPLY FOR MEMBERSHIP
Silver-Individual
$
200
/ yr.


Taxes & Fees Included
$
29
/ mo.


Taxes & Fees Included
APPLY FOR MEMBERSHIP
Silver-Family
$
250
/ yr.


Taxes & Fees Included
$
39
/ mo.


Taxes & Fees Included
(Includes spouse and all dependent children 21 & under)
APPLY FOR MEMBERSHIP
Fishing Membership Dues

Our Members pay an annual membership fees and small daily rate to fish our properties. The daily rate of each lake is determined by the location of the site, its facilities, and the quality of fishing.

Gold-Individual

$

425

/ yr.


Taxes & Fees Included

Gold-Family

$

550

/ yr.


Taxes & Fees Included

Silver-Individual

$

200

/ yr.


Taxes & Fees Included

$

29

/ mo.


Taxes & Fees Included

Silver-Family

$

250

/ yr.


Taxes & Fees Included

$

39

/ mo.


Taxes & Fees Included

First Year Total

$725

First Month Total

$129

$139

Access to Gold Level Lakes
Early Bird Access to All New Lakes
Access to Silver Level Lakes
Boats Available for member use
On-site lodging opportunities
Access to detailed property descriptions and member written fishing reports
Guest Admission
Club events, contests and group trips
New lakes added every year
Exclusive private experiences
Spouse membership included
Ability to bring children (under 21)
* Special group discounts are available, please call us at 214-871-0044 for more details.
Frequently Asked Questions
Your membership is good for one year from the month you join until the same month the following year.
*For example if you join in May your membership is good until May of the following year.
Should you have any questions or concerns, please feel free to call us at (214) 871-0044
You may want visit our FAQ section to learn more.
In addition to the membership fee each member or member guest pays a daily access fee to each property.
Daily access fees are determined by location, beauty, site amenities, and the quality of fishing.
Daily fishing fees range from $60 to $225 per person for a full day of fishing and $45 to $130 for a 1/2 day of fishing. A half day of fishing is dawn to noon or noon to dusk.
An individual membership is for one adult. Individual members may not take children at child rates, only Family members.
A family membership is for a married couple and all dependent children 21 and under.
Fishing guests pay the same day rate as a member plus a $20 guest free regardless of type of membership.
Each guest for duck hunting pays a day rate of $50.
Fishing membership cannot Duck Hunt, even with Guest.
Membership is automatically renewed every twelve months