Jan 05 2021
Chris Harper
Fry
Reservation Number : 26844
Property Name : Indian Hollow Ranch
Reservation Date : 01/02/2021 All Day -
Total Fish/Sizes : 8 total, 4 under 14", 4 over 14" largest 3 lbs 10 ozz
Lures Used : Bladed Jig, Spinner bait, Drop shot

Saturday morning was cold with light snow flurries, so we hit the water about 9:30 am and fished until 4:30 pm.
Water was a little stained but not bad, considering the amount of rain received the days before. Air temp when we started was 38 degrees overcast and wind 3 to 5 miles per hour. Water temp was 46 degrees when we started and rose to 47.5 degrees in the late afternoon.
This was my first trip to Indian Hollow Ranch. I fished with a guest Brian Murray who took First fish and biggest fish honors on his 3rd cast. He caught it on a thunder cricket that weighed in at 3 lbs 10 oz. This fish had an 8 lb head but was very long and on the thinner side. It was a healthy fish and was a great start to the day.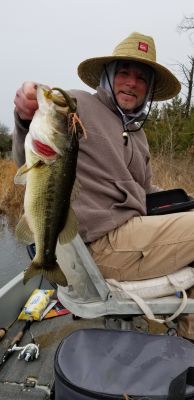 We threw crankbaits and lipless cranks, but these didn't produce much, so we kept going back to the bladed jig. We didn't catch anything in the coves. All fish were caught 2 to 10 feet from the bank. While the wind was coming out of the west, we had the best bite. We didn't get any bites after 3:30 PM when I think the wind switched things up on us.
Of the 3 fish I returned, I think this is the largest. They all were within a few oz of each other, right around 2 1/2 lbs.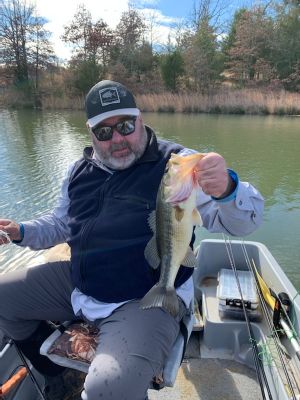 It was another great day on a Private Waters Lake. Thanks to the Landowner for allowing us to spend the at his property
YITB,
Chris