Chris Harper
Fry
Member Since :
2020
Number of Posts : 12
Property :
Bluebonnet Ridge, Ennis
Blue Bonnet Ridge Sat the 12th
Reservation Number : 25765
Property Name : Bluebonnet Ridge
Reservation Date : 09/12/2020 All Day -
Total Fish/Sizes : 19 1.5 to 3.5 and one at 21"
Lures Used : Wacky Senko and S Waver 168

I fished all day Saturday the 12th from 6:30 am to 7:45 pm. I started at the big lake and fished it from sun up until about 1:15 pm and again from 3:00 pm to 6:15 pm. I caught 11 fish all on the Wacky Senko, with the two largest being 3.2 lbs and 3.6 lbs more about the biggest in a minute. I had a Black Crappie hit the Senko, and when I was fighting it, I would have sworn it was a 3 or 4 lbs bass; it freaked me out so bad when I realized it was a Crappie I froze up and ripped the hook right out of the big ole bucket mouth. I have never battled a Crappie that fought that hard. I did have 3 or 4 LMB's that were under 14," but all the fish I caught were in good shape, even the little ones.
I got nothing on a chatter bait, tx rigged worms, Crankbaits, or Swimbaits, and I probably forgot a few others.
When I broke for lunch, I went over to Mesquite lake to bank fish by doing a lap around the tank with a Senko and a Chatter bait. I caught 5, but they were 1 to 1.5 lbs. So after a quick, once around, I am guessing it's 2:30, or so I grabbed a Swimbait rod and an S-Waver 168 size a chunked it from the dock. I had a few take a swipe at it, and then a few casts later, my first ever fish finally hit that high dollar lure. I had left my scale and measuring devices in the boat at the big lake, so I didn't have a way to get the weight; let me know what you think. I do know that from the green ring to the rod butt is 20 1/2" See pics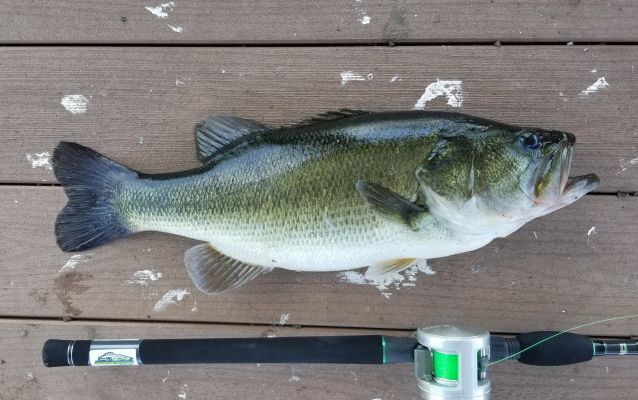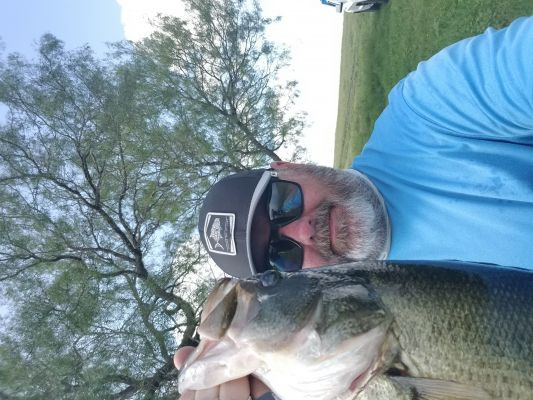 I love this property and look forward to going back.
YITB,
Chris